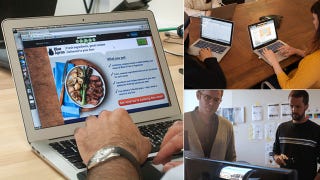 It's typical to waste a ton of time texting, tweeting, and otherwise faux-communicating on our phones, but the thought of using them to make actual calls garners a resounding "meh" — which is sort of not optimal when you work with clients and coworkers from all over the world.
But join.me makes communicating simple. In addition to saving time otherwise spent wrangling your team together for an in-person meeting or conference call, join.me offers a ton of features to help small businesses communicate more efficiently: it records presentations, allows for screen annotation, sharing, and collaborating, and logs meetings so that employees with scheduling conflicts can listen in later.
Studio@Gawker (that's us!) got to test-drive join.me (read about it here), but we're not the only ones wishing death upon inefficient meetings in 2014. We followed up with some previously profiled join.me fans to find out how they plan to improve communication within their companies in the coming year.