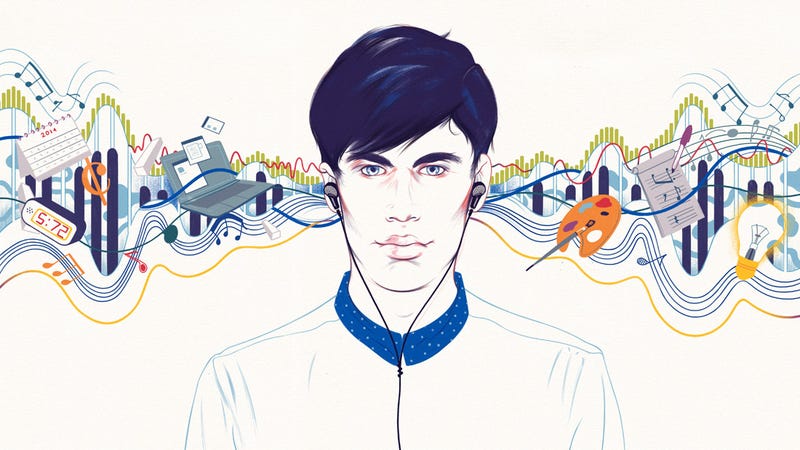 Music is a powerful force that directly impacts how we think, feel, and act. From designing a playlist for the gym to finding those perfect tracks to listen to while making dinner, music has a place in almost everything we do. I have specific playlists for writing, for creative sessions, and for Sunday night emailing. But the direct influence music has on productivity is often misunderstood. Below, I'll break down how sound affects you and how you can use it to work smarter.
The Four Ways Sound Affects You
Julian Treasure is the founder of The Sound Agency, a U.K.-based consulting firm that helps brands develop and use sound effectively. In his TED talk on the subject, Treasure outlined the four main ways sound impacts you:
Physiologically. Sound directly affects how your body functions. If you hear a siren in the background of a song, stress hormones like cortisol are released into your bloodstream. Meanwhile, listening to waves gently rolling ashore brings a sense of calm to your body. Treasure says this happens because ocean waves are about 12 beats per minute, close to your resting breathing rate.
Psychologically. Different tones can make us feel happy or sad. The effect of sound on our emotional state can be traced back through thousands of years of evolution. This is why the sound of birds chirping in the morning makes you feel reassured, says Treasure. From an evolutionary perspective, singing birds indicate a safe environment.
Cognitively. Sound can have a direct impact on how you process information. Many people find it nearly impossible to focus on two different auditory sources at the same time. We are bad at multitasking, especially when it comes to processing sound. So it's not surprising that, according to studies, open-plan offices can drop your productivity by 66 percent.
Behaviorally. Sound is so powerful that it can cause an immediate physical reaction. If an ambulance goes blaring by, you'll naturally try to shield your ears or move away. If someone screams in your ear, you'll flinch.
The impact of sound on your core functioning is real, and recent research has shown that there may be ways you can harness the power of music and use it to your advantage — specifically when it comes to productivity.
Listen to Music You Like for Simple Tasks
In general, it's a good idea to listen to music you enjoy while you work. A study published in the Journal of Music Therapy noted that listening to your favorite type of music, whatever it is, lowers your perception of tension. This is especially true when you're tackling a simple task. The easier you think a task is, the more music can help you.
That's exactly what researchers found when they looked at the accuracy of experienced surgeons while listening to music. The results of the study showed that the surgeons were most efficient and accurate when music they liked was playing in the background. They even performed better when music they didn't like was playing in the background than they did when there was no music at all.
Similar findings have been discovered for monotonous tasks, like working on an assembly line or copying data into an Excel spreadsheet. When it comes to activities you feel are simple or boring, listening to music you enjoy can put you in a positive state of mind, improve your productivity, and increase the quality of your work.
Go for Upbeat When Conquering Creative Tasks
It can be hard to find the right music for every occasion. But if you're having trouble choosing between listening to hip-hop and Bach's greatest hits, researchers have found that one of the best ways to spark creativity is to listen to songs in the range of 50-80 beats per minute.
Dr. Emma Gray, of The British CBT and Counselling Service, found that this tempo is ideal for creative tasks because it helps induce an "alpha state" where your mind becomes calm and alert, and concentration is heightened. (If you want to put this theory to the test, Gray partnered with Spotify to create a playlist of productivity-enhancing music, which you can listen to here.)
Alpha waves, or synchronous and slow brain waves, have also been associated with the "eureka moment," a flash of insight that can be triggered when you enter a relaxed yet focused state of mind.
Whether you're performing monotonus tasks or hoping to get inspired, listening to music will improve your state of mind. If you're happy and energized, you'll do better work.
Mikael Cho is the co-founder of ooomf, a creative marketplace connecting mobile and web projects with vetted developers and designers from around the world. Mikael writes about psychology, start-ups, and product marketing on the ooomf blog. Find him on Twitter @mikaelcho.

Illustration by Andrew Archer.
This post is a sponsored collaboration between Bose and Studio@Gawker.