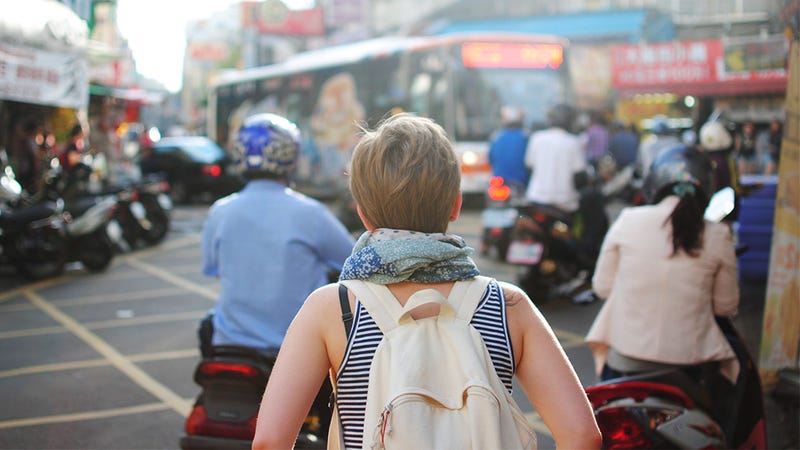 Explorers are never bored for long. Their lives are filled with mystery, adventure, and the thrill of the unknown. While that may sound more aspirational than attainable, a few small adjustments to your routine could release the explorer inside you — you may even be just the type of person National Geographic's Expedition Granted competition is looking for. The following guidelines will help you approach the world in a fresh, curious way: the first step to exploration of any kind.
Be Curious
Fashion photographer and filmmaker Steven Sebring made his name shooting campaigns for M.A.C. and Coach, but he couldn't stop thinking about discovering a new way to photograph people as art. To feed his curiosity, he researched 19th-Century photographer Eadweard Muybridge and the artist Marcel Duchamp, which inspired him to create a specialized rig of 100 cameras that can record a single moment from a ridiculous number of viewpoints. A simple step to work your own curiosity muscle is to ask questions about subjects that interest you, and better yet, subjects that don't. Instead of dismissing things as "boring," search for an angle that intrigues you. Even small discoveries in your life can have a big impact on you and those around you.
Make A Plan
In 2010, college student A.J. Forsythe learned how to repair his own cracked iPhone and he soon realized that there was a giant market for quick and easy iPhone repairs. Less than five years later, everything is falling into place for his plan to create "the AAA of iPhones": Forsythe's network of trained repair experts now spans 43 states and 11 countries and brings in $9 million a year in sales. For the everyday person, setting a clear long-term goal can make it easier to remember where you want to go and what you'd like to prioritize when countless small decisions clutter your days and weeks. One option is to use the 90% Rule to identify your most important tasks, so you can concentrate on pursuing the opportunities that have the biggest impact on your life.