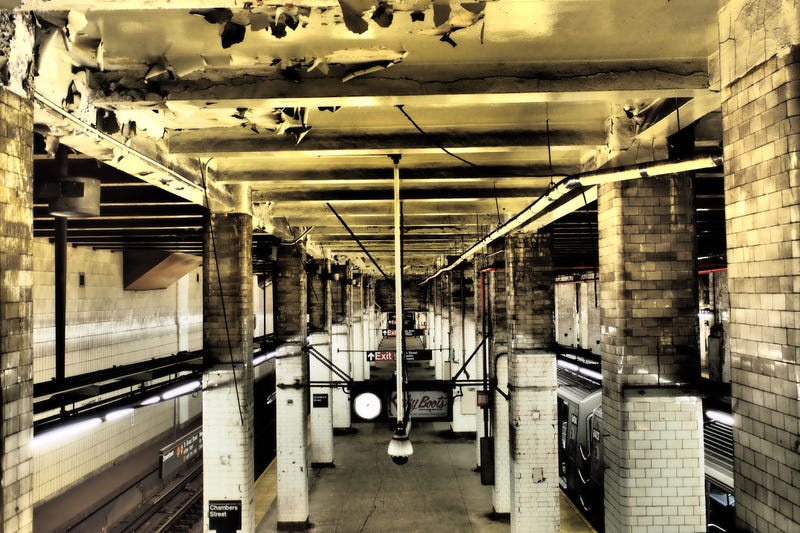 Train delays and tourists are usually responsible for slowing down a New Yorker's commute — but the Olympus OM-D E-M10 would never do something like that. It's lightweight and compact — and if there's anywhere you can appreciate mobility, it's on the subway. Olympus loaned photographer Victor G. Jeffreys (of Dodge & Burn) their latest camera and set him loose on the MTA with nowhere to eat, sleep, or pee for 24 hours. And beautiful things happened.
When I got this assignment, I packed a bag with three grilled chicken breasts, two protein bars, a bottle of water, my telephone, an Olympus OM-D E-M10, and a charger. And I was off.
I quickly realized the camera's features would let me tell any story I wanted. The Color Creator mode and the ability to modify saturation and contrast in-camera makes it easy to make images pop and feel lush, like the mosaic above (snapped at the 46th Street - Bliss Street stop, 10:15 AM). The following pictures were shot using the Color Creator feature.
Under the sea at 81 Street - Museum of Natural History, 9:31 PM.
Union Square, 12:10 PM.
At the center of the earth at 81 Street - Museum of Natural History, 9:31 PM.
Somewhere in Queens on the 7 train, 6:18 AM.
Fish kiss at Jay Street/MetroTech, 11:17 PM.
All that glitters (this is most definitely not gold). Fulton Street, 10:49 PM.
With a 12 or 17mm M. Zuiko lens and the Dramatic Tone art filter, I could make the subway system seem gritty, rough, and a little scary — and I could do it in-camera. The following pictures were shot using that filter. This one was taken on the 7 train in Queens, 6:33 AM.
5 Pointz in Queens, 6:33 AM.
Broadway/Lafayette, 4:10 AM.
They are always watching. Broadway/Lafayette, 4:12 AM.
Lexington Ave/53rd Street, 6:54 PM.
Finally, a place to pee at Jay Street/MetroTech.
Crossing Jamaica Bay on the A. [17mm, ISO200, F2.2.]
The ghost dance. Union Square, 4:40 PM.
A train over Jamaica Bay, 2:15 PM.
The Photo Story functionality is fun because you can easily combine multiple images into one, like the image I stitched together of a man napping, above (taken on the E train at 4:12 AM). Below are more examples of the Photo Story feature.
I can barely see straight, and I still have another 19 hours on the subway. Jay Street/MetroTech, 11:14 PM.
Dirty windows. E train — 50th Street.
Heading downtown from somewhere further uptown, 5:30 AM.
Industrial revolution on the 7 train, 9:14 AM. [Photo story mode, 17mm 1.8, 230 IOS, F3.5.]
Nursery rhymes at Bryant Park, 4:36 AM.
The middle of midtown.
On Broadway.
Good luck at the American Museum of Natural History, 9:28 PM.
Even when you strip the camera of its filters, vignetting options, and color corrections, it takes beautiful photos in its manual mode. The above picture was taken at West 43rd Street, 10:12 PM. [Manual Mode: 12mm 1.8 fixed focus MSC lens 2 second exposure at F13.]
Grand Central Terminal, 3:45 AM.
And of course, the camera is sexy. The body feels solid, the M. Zuiko series lens is sleek, and the full package makes you look like a million dollars. See?
Pack the Olympus OM-D E-M10 for your next urban adventure. Learn more here.
Victor G. Jeffreys II makes art. His works and films have been exhibited at Brooklyn Academy of Music, Music Hall of Williamsburg, Christie's, Phillips de Pury, the Wassaic Project, Movie House, 3rd Ward, New Fest Film Festival, and in his first solo show, STIFF COTTON, in NYC.
All photography by Victor G. Jeffreys II.
This post is a sponsored collaboration between Olympus and Studio@Gawker.