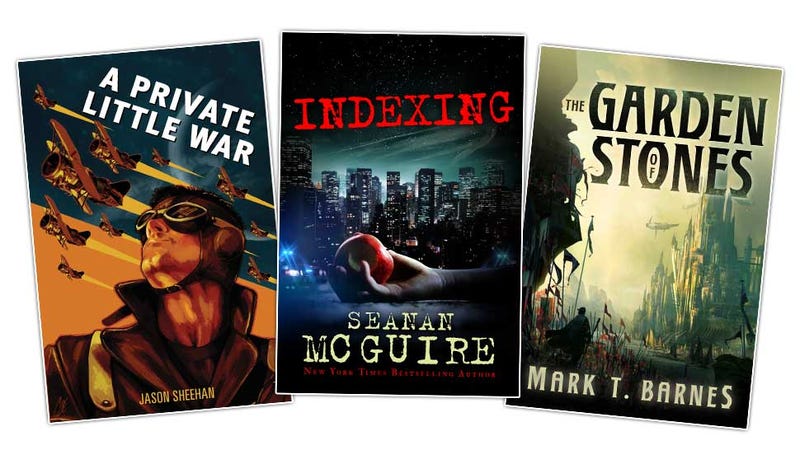 If you're lucky enough to live on a planet where an Ice Age hasn't turned your world into a frozen desert, you know that great books are an integral part of enjoying the summer months. For those of you who find yourselves with some downtime during a planetary takeover, 47North brings you science fiction and fantasy books that are perfect for lazing about in the sun — no matter what planet you call home.
If you like your sci-fi scary and your zombies Nordic...
Survivors from two opposing sides of an environmental, ideological battle wash up on an icy shore in Greenland and must reluctantly band together to stay alive. But the environment turns out to be the least of their problems. The Sentinel, by Jeremy Bishop, has far greater horrors in store for undercover agent Jane Harper than cold and hunger: the terrifying ancient "again walkers" of Viking myth that inspired our legends of vampires and zombies have awoken from centuries of slumber. And they're hungry...
If you like dystopian science fiction with biplanes (and who doesn't?)...
Jason Sheehan has cooked up something special with A Private Little War, which sees the hired-gun pilots of Flyboy, Inc. in way over their heads on the alien planet of Iaxo. With a huge tech advantage over the indigenous tribes of Iaxo, the support of a privatized military industrial complex that would make certain one-percenters blush, and a mandate to dominate the planet, it was supposed to be clear skies for Flyboy, Inc. But when Iaxo's natives refuse to play by the rules of conquest, our team will wish they had started a land war in Russia instead.
If you like your science fiction to boldly go where no one has gone before...
S.G. Redling's Damocles turns the concept of First Contact on its head. What if our DNA was seeded throughout the universe — and the first far-flung humanoids encountered see us as the extraterrestrial invaders? Linguist Meg Dupuis and the rest of the crew aboard the ship Damocles must navigate the planet of Didet, where the aliens have familiar faces and unfamiliar lives. Told from both sides of the unfolding first contact, Damocles is smart, grounded in plausibility, and steeped in the wonder of discovery. Take a break from being a devoted Trekkie and join up with the Damocles. There's not a humpback whale in sight, we swear.
If you're currently suffering from King's Landing withdrawal...
Mark T. Barnes' The Garden of Stones is epic in its scope, the story of empires raised and fallen, great dynastic houses, heroic magic and villainous mayhem — you know, the good stuff. As a dying ruler seeks to cheat death at all costs, he risks tipping the world of Shrian into civil war. Standing against him is Indris: a prince, warrior-mage, and rival in house and power who seeks to maintain the uneasy peace of a world shared by hybrids, humans, the spectral Undead, and the rare Elemental Masters. Dive into Shrian while you're waiting for a new dose of Westeros fanfic.
Also sure to get your fantastical juices flowing is Richard Ellis Preston Jr.'s steampunk Romulus Buckle and The City of The Founders, the first in the series The Chronicles of the Pneumatic Zeppelin. If the titular hero and the badass title aren't enough to lure you in, consider the plot: Romulus and the rest of the zeppelin's crew must rescue their kidnapped leader Balthazar Crankshaft (somewhere Charles Dickens is smiling) from a post-apocalyptic, alien-ravaged netherworld that was once Southern California. With wastelands of poisonous mustard to navigate and foes that range from extraterrestrial monsters to armored locomotives, Booklist raves "steampunk doesn't get much more exciting, or more adventurous, than this." You had us at "Balthazar Crankshaft."
If you like your fantasy twisted...
What happens in a world where fairy tales can become reality? Turns out it's a far cry from happily ever after. It's more like The X-Files: Once Upon A Time division. In New York Times bestselling author Seanan McGuire's new series Indexing, the ATI Management Borough is charged with mopping up after "memetic incursions" — the intrusion of fairy tale horrors and wonders into everyday life. It's up to the ATI's agents to save the world from rogue narratives, while battling their own inner demons, witches, Goldilocks and Cinderellas.
If you like your science fiction to give you awesome nightmares...
In a near-future of self-driving cars and selfishly autonomous city-states, rogue assassin Alexei Drovosek emerges to take on a world ruled by plutocratic corporations, which now have the right of suffrage over citizens (shh, wouldn't want the lobbyists get wind of that idea). Kingmaker, Christian Cantrell's latest novel, tracks the ex-spy as he trains and positions a team of orphans to take down the institutions that keep society in a cycle of consumption and destruction. The premise of Kingmaker feels dangerously close to home, and Alexei's solution will keep you enthralled.
Interrupt, by internationally best-selling author Jeff Carlson, sets out to explore the unanswered question of why Homo sapiens triumphed while Neanderthals faltered — an ancient mystery that now has repercussions for a future in chaos. While solar storms wreak havoc on Earth's technology and environment, and countries teeter on the brink of world war, a far greater threat arises: a brand new species of man. The story is edgy and daringly edge-of-your-seat — and you'll emerge with all the right answers to pub quiz questions on evolutionary anthropology.
Full of complex plots, people, and places, these books will transport you to distant worlds — crucial on summer days with a high of 95 degrees that feels more like the scorched surface of Mars. Grab the books from 47North today and blast off from everything ordinary.

Kaila Hale-Stern is a writer who lives in your social media stream and works on saving science fiction's past for the future.