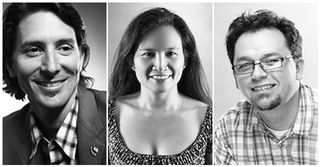 [Update: comments are now closed] The singularity may a nebulous, ominous concept, but there are many groups working in the present to bring us closer to this future state, and ensure that we're prepared to make the most of it when we get there. Singularity University (SU) is one such organization, and Rob Nail (CEO of SU), Emeline Paat Dahlstrom (the Chief Impact Officer at SU), and David J. Hill (Director and Editor-in-Chief of Singularity Hub) are in the comments to discuss why forward-thinking entrepreneurship is our best approach to understanding the singularity.
So hop in the comments and ask them anything!
While the singularity is still a thing of the future, intelligent technologies like Subaru's EyeSight Driver Assist Technology are making cars safer today. Head here to learn more about Subaru EyeSight.
This post is a sponsored collaboration between Subaru and Studio@Gawker.