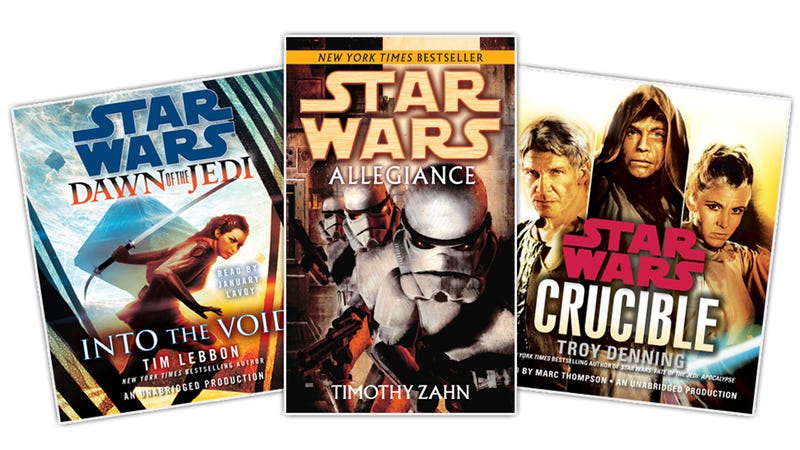 The Fourth of July is just two days away, so it's time to bust out the essentials: grill; fireworks; lightsaber... What? Jedi like burgers, too.
The peoples of Tatooine and Alderaan may not have known much about the ways of barbecuing and Americana, but living in a galaxy far far away meant knowing a little about the Force. Random House Audio wants to help you celebrate our galactic independence from the clutches of the Empire by kicking off the Force of July with recommendations for your listening pleasure. You can even enjoy them while traveling through hyperspace.
Check out these Star Wars audiobooks to hear the stories of the Expanded Universe in the best way — awesome narration, original sound effects, and that unmistakable John Williams score.
Written by Timothy Zahn and narrated by Marc Thompson, Allegiance: Star Wars takes place after the events of Episode IV. In it, the freshly-minted leaders of the rebel alliance — Luke Skywalker, Leia Organa, and Han Solo — must deal with the politics that comes with building a resistance movement in the shadow of the Empire. Plus, a young Mara Jade BAMFs it up in this one.
Years after the destruction of the second Death Star, Luke, Leia, and Han have more than earned the right to rest. But, after landing at Lando Calrissian's Outer Rim mining operation, they find themselves waylaid by an enemy that will change their understanding of the Force. The novel was penned by Troy Denning, author of the Fate of the Jedi, Legacy of the Jedi, and the Dark Nest trilogy, and narrated by Marc Thompson.
Based on the successful comic book series, Into the Void takes place at the Dawn of the Jedi. This story follows Lanoree Brock as she finds her place in the Force with the guidance of the ancient Je'daii order. This is the debut Star Wars novel from bestselling author Tim Lebbon, and is narrated by award-winning actress January LaVoy.
You have learned much, young ones. Now go forth and check out the rest of Random House Audio's collection of audiobooks before the big cookout on Endor.