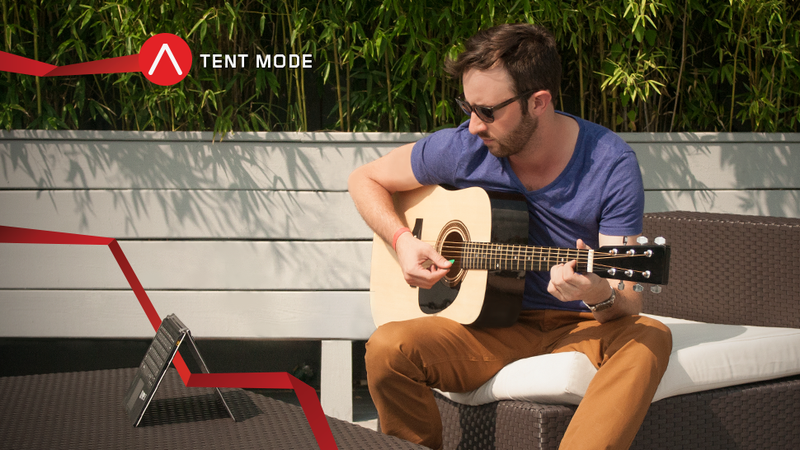 Whether you're at your desk or out in the world when you take on that next big assignment, you need the right computer. One that can adapt with the swipe of a finger would be really nice. The Lenovo Yoga 11S has four modes — Tent, Stand, Tablet, and Laptop — that can handle most every situation. Let's take a look at Tent mode.
For Big Ideas
The Yoga 11S is a beauty and it's made to get stuff done. Its 11-inch chassis makes it easy to throw in a messenger bag or backpack, and its screen is plenty bright and easy on the eyes – and fingers, since it does double-duty as a touchscreen. Under the hood, there's a 1.5GHz Intel Core processor, which, coupled with its solid-state drive, means its performance is rock-solid.
But the thing that matters most here is the Yoga's flexibility. By inverting the machine, you get a completely touch-enabled desktop. That's Tent mode, and it'll help you stay nimble enough to handle everything on your plate.
Let's say you have a huge, collaborative project due for an environmental client. The Lenovo Yoga 11S makes multitasking simple. And when it's propped in Tent mode, swiping between apps is easy. Fire up Skype so your colleague can conference in. You've also made sure she can see the whiteboard behind you. Now, you just need some ideas.
Tent mode encourages you to engage with the touchscreen while also freeing you up to interact with the room. That means you can get up and draft ideas on the whiteboard while your colleague speaks, and also come back to the screen to pull up necessary information when you need to. There's no tapping at keys; instead, everything is at your fingertips in as fluid a way as possible.
For Budding Musicians
The Yoga 11S's 11.6-inch 1366x768 display has excellent color in bright light, making it particularly well-equipped for working and browsing outdoors. In such situations, it can make the perfect companion for a private music lesson.
Say you want to learn guitar: all you need to do is head to your patio, rest the Yoga on a table in Tent mode, and start practicing. You can freely access apps in the Windows Store such as Play Guitar! to learn chords — or Evernote Touch, if you're the type to save your sheet music in the cloud. And the viewing angles let you sight-read without any issues. And when you're finally good enough to start sharing your original songs with friends, you can record your sessions with OpenLabs StageLight, where you can add in drums and sound effects.
Ultimately, alternating between swiping your touchscreen and strumming your guitar is much easier than trying to navigate a keyboard and mouse while you have a guitar in your lap. You'll appreciate that when you're learning your next piece.
For Top Chefs
Or what if you're having a few people over to for your fantasy football draft party? Your ambitious menu includes grilled chicken and pineapple sliders and tortillas with avocado, mango, and tomato salsa.
You need about an hour and a half to get the food ready before everyone arrives. Throw on your "Kiss the Cook" apron, tent your Yoga, jump into AllRecipes and start cooking. As always, the Yoga lets you bounce back and forth between the grill, the cutting board, and its touchscreen, where you'll be checking just how much pepper you'll need to make the salsa just right. You can also check out Decision Maker Fantasy Football '12 to see how your players stand before you check the meat.
Pretty sweet.
If you're the kind of person who does it all, the Lenovo Yoga 11S is for you. Whether you need a traditional laptop, a handy tablet, Tent mode for multitasking, or Stand mode for enjoying media, this one Ultrabook does it all. Have a minute in your busy schedule? Check out what the Yoga can do for you right here.