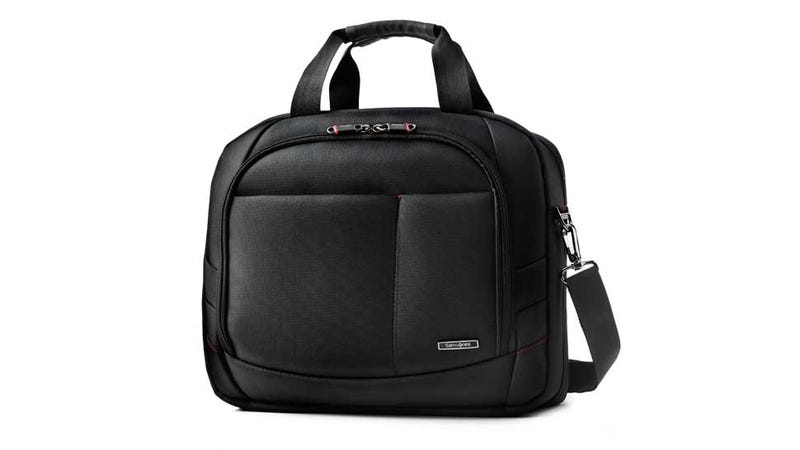 If you're a grad student, you've basically committed yourself to an existence of juggling work, school, and play. And while everyone is very impressed by you and your crazy schedule, they're probably also worried for your sanity — and the safety of your expensive gadgets. Samsonite invented Perfect Fit Technology to solve both of those problems (sorry they couldn't help you present your Ph.D.).
Here's how the Samsonite Xenon 2 Perfect Fit Technology Laptop Bag helps make your insane schedule a little more manageable.
6:55 a.m.: It's only been five hours since you fell asleep trying to transcribe an interview with a research subject, but you promised yourself you'd get up early to finish typing up the 800th (OK, maybe it's only the third, but still) round of responses to your survey. You were probably hoping to at least skim the readings for today's classes, but the snooze button nixed that plan. You're probably more than half asleep, so make sure your laptops (yes plural), tablet, assorted books, headphones, and tangle of chargers are all safe and secure in the Perfect Fit adjustable compartments of your Samsonite laptop bag. There's a 30% chance you'll miss a step on your way down the stairs this morning, but at least your gadgets will be safe (can't say the same for your ankle).
2:40 p.m.: Your second class just let out, and it looks like it's around lunchtime. Anytime before 3 p.m. counts as lunchtime. You run to grab a burrito with extra hot sauce (that should sit well). While you're in line looking over your professor's completely illegible red pen comments on the paper you just got back, you feel your phone vibrating in your bag. You remember that your advisor, who's currently researching a new fertility drug in the jungles of Cambodia, was supposed to contact you for the first time in three months to give you feedback on the notes you sent her two months ago. Not to worry, your phone is nestled conveniently in the safety of the brushed poly, custom fit front pocket of your Xenon 2, so you won't have to dig through the bag, find gum on your phone screen, and miss the call (and a chance to discuss the daunting state of your research).
4:37 p.m.: Time to shift gears from school to your internship at a research clinic. You quietly speed-walk through the library to your research locker to switch out your personal gadgets for your work laptop. All you have to do is bid a painful farewell to the sleek ultrabook you spent six months saving up to buy, and swap in the clunky old laptop that your internship gave you for logging excel spreadsheets of data. Samsonite's Perfect Fit Technology ensures that your laptop bag's compartments adjust to keep both your beloved 13'' personal laptop and the 17'' monster for your internship safe and sound. Everything you need to jump into work mode is in your Samsonite bag, which is currently banging against your side as you race to the clinic. Thankfully, the SmartStrap makes it easy and comfortable to hold onto your bag as you dodge and weave your way through crowds of (very slow-moving) pedestrians. Everything is right where it should be…except you.
9:27 p.m.: Time to reward yourself for all that studying, and working, and running around with some quality time at your local watering hole. All you really wanted was to pass out with a box of mozzarella sticks next to your pillow, but your undergrad roommate is having a karaoke birthday party that you can't miss. (Plus, spending time with other humans has become a necessity after you caught yourself talking to a microscope.) Your bag will sit nicely under your barstool with your array of devices snugly secure in its Perfect Fit compartments, and protected by its built in shock-protector padding from falling drinks and dangerous high-heels.
Be prepared for whatever crazy requests your boss, professor, or friends might throw your way with the Samsonite Xenon 2 Perfect Fit Technology Laptop Bag.