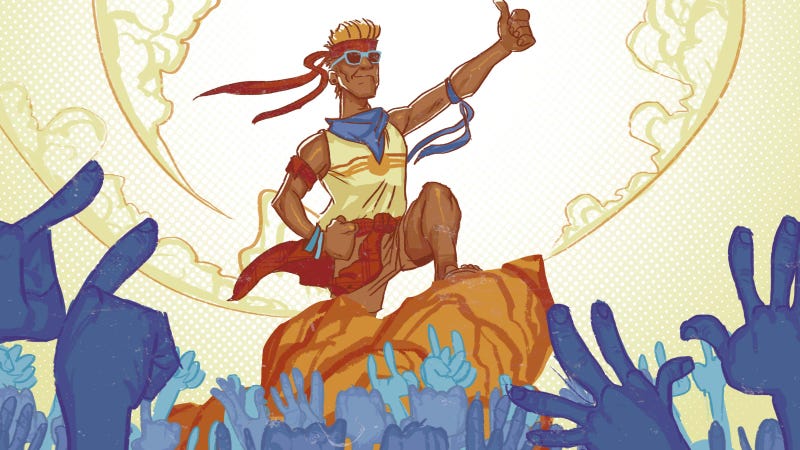 Few summer traditions are more worthy of their hype than going to music festivals — if you do it right, that is. If you don't, you'll succumb to the chaos/heat and have a jumbled, exhausting, and less-than-stellar experience. Don't let that deter you, though! Here are some tips to keep in mind as you navigate the hubbub of any and every music fest, because the end goal is simple: to live your best life all summer long, without the BS.

Make A Game Plan
Go to the shows you actually care about, not just the ones that are convenient. Write notes on your phone of the bands you definitely want to see, events you want to check out, the stages to be at, and when. Save a festival map on your phone to consult whenever needed. It'll make getting around way simpler and, within a day or two, you'll probably have all the best routes memorized.
Don't show up till the first band you care about is playing. Chances are, you want to see at least one major headliner, which means you're committed to being there until evening. Arriving early for bands you don't listen to will just drain you of energy you'll need later, when you're jiving into the night.
Festival locations are notorious for spotty cell phone service, so designate areas to meet up with your buddies if you get lost, during down time, or at performances you plan to check out together.
Discovery is a part of every true music festival experience. There's always going to be stuff going on that you don't know about ahead of time — after-parties, games, silent disco, whatever — so plan some free time to embrace the unexpected.

Don't Forgo The Essentials
This should go without saying, but sunscreen is a must. I neglected UV protection at my first festival and spent the rest of the summer peeling so much skin off of my body that I became a splotchy pink-and-brown flesh blob. Avoid the same fate by stashing a handful of travel packets in your pockets. You'll have one less discomfort to distract you from the revelry.
Hydrate yo'self, because heatstroke is a real thing that happens and ruins people's vibes. Bring an empty water bottle and fill it at water stations between sets. Collapsible water bottles are a godsend, since you can roll them up and stick them in your pocket after you've downed the contents.
As for clothing, default to basics you don't care about. It's tempting to dress to be seen, but let's face it: Whatever you wear is going to get effed up. No one at a music fest is safe from weather conditions, dirt, and copious amounts of sweat. At most, dress in layers and pack a poncho.
But Consider Bringing Extra Gear
While any tent (or suspended tarp) will do, get your hands on an inflatable or fast-pitching tent. Setup takes as little as five minutes, leaving you with more time to do actual fun things — or to make your camp as cushy and chill as possible. A pop-up canopy will keep your tent from heating up too quickly from morning sunlight and provide shade to hang under during the day. And speaking of hanging — hopefully you've got space for hammocks or a couple of folding camp chairs, because those represent some next-level relaxing.
Even if you're not the type to shower every day, you're bound to pine for one at some point during the week. Portable showers are both affordable and invaluable in the crowded, smelly cesspits of festivals.
Spending too much time on your phone is total buzzkill, but a portable charger and a MiFi will help you stay reachable and connected (and able to post a couple of important photos to social media). Solar-powered chargers are another obvious good choice during those long summer days.
Bring tokens like flags, banners, and novelties — anything fun and easily recognizable that you and your friends will get a kick out of. They'll help you locate your buddies and your campsite, while doubling as an icebreaker to make new friends.
And Yes: Make Friends
Talk! To strangers! There's a shared camaraderie at music festivals that can easily lead to long-lasting friendships or, at the very least, buddies to go to shows with in the future. Waiting for a band to come on stage is the perfect time to chat people up, especially at the front of the crowd, where fellow super-fans will be congregating.
If meeting artists IRL is your thing, hang out by the radio tents. When they're not playing, bands will be doing press — and you might catch a conversation (or a photo op) with a musician you admire. It's forgivable to be a little thirsty when there's a once-in-a-lifetime opportunity to meet your favorite guitarist. No shame.
Don't forget: Social cues still exist. Festival-goers tend to be the nicest people on earth, but if someone clearly doesn't want to talk, take a hint and step back.
---
Most importantly of all, just go with the flow and stay true to yourself. There's no way you can fine-tune every detail of a music fest, and that's part of their beauty. So go and take every festival by storm this summer, and relax and reminisce over a cold six-pack of Miller Lite when you get home.

Angela Wang is a Senior Writer for Studio@Gawker.
This post is a sponsored collaboration between Miller Lite and Studio@Gawker.