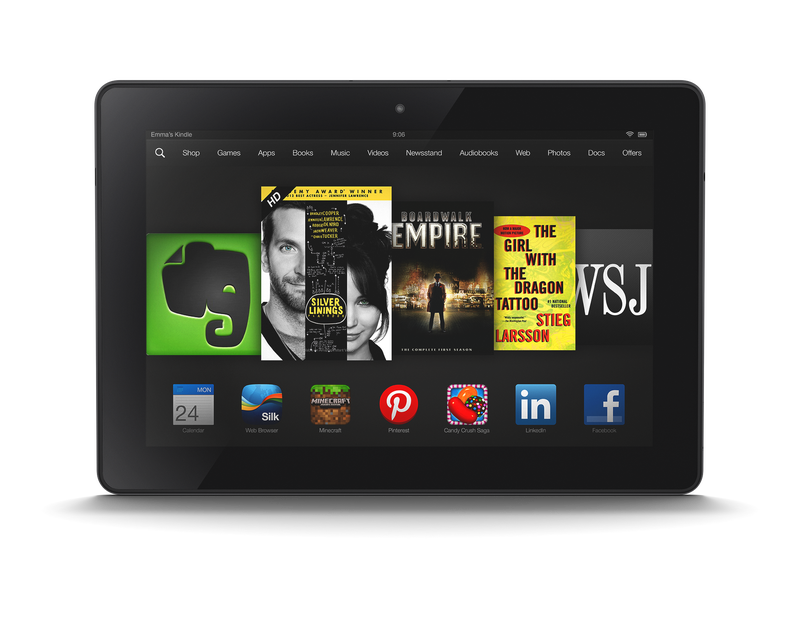 You've booked your ticket, you've packed your bag, you've downloaded your boarding passes and know your itinerary by heart — you're ready for your holiday journey. But how are you going to satisfy your entertainment-hungry mind during your hours in transit? Here's your media strategy, courtesy of the Kindle Fire HDX.
For the 10-Hour Flight
If your flight is 10 hours or longer, there's a solid chance you're going somewhere really cool. Well done. That doesn't diminish the fact that it's a really long flight. When you're awake, trapped in a small space, and surrounded by sleeping strangers — or worse, crying babies — boredom can take on some pretty terrible qualities. But have no fear: you can totally get through it. Your consolation? Crazy-long flights give you the chance to accomplish a lot. Have you been meaning to catch up on Game of Thrones? Download episodes directly onto your Kindle Fire HDX and embrace guilt-free binge watching. For something a little more civilized you can get wrapped up in the upstairs/downstairs drama of Downton Abbey instead. You can also take the cinematic route, and watch The Dark Knight trilogy — just don't practice your Christian Bale voice out loud on the plane, please.
If an immersive world of dragons and kingslayers isn't your thing (or you just need a break from the sadistic jousting) you can switch over to the USA Today app, for seven days' worth of events with full-color photos and video. That's another couple of hours right there. Or dive head first into The Goldfinch by Donna Tartt, which Amazon just named the best book of 2013. It's a big one, but you'll be hooked in just a few pages. Had enough intellectual stimulation? Yes, the Kindle Fire HDX has Candy Crush Saga.
For the Eight-Hour Flight
Not long enough to drive you totally crazy, but just long enough to require some planning, the eight-hour flight is a force to be reckoned with. Start simple, with a good book that will suck you in and refuse to let you go, like The Girl with the Dragon Tattoo. Since it's part of a series you don't have to pace yourself to ensure that you don't run out of reading material before the end of your trip, so you can just go for it. Spend at least half the flight immersed in Stieg Larsson's world, then once you've made it mid-way over whatever majestic body of water you're crossing, you might want to lighten it up a little. If you watch the first installment of Sherlock Holmes on your way to your destination, you can always watch the sequel, Sherlock Holmes: A Game of Shadows, on the way home. If episodic suspense, flappers, and Steve Buscemi are more your style, catch up on Boardwalk Empire.
For the Five-Hour Flight
Flying to the opposite coast for the holidays gives you just enough time to catch up on the latest episodes of your favorite series. Some quality time with Sookie and Vampire Bill of True Blood is the perfect way to pretend you're in the bayou of Bon Temps instead of hoping that guy leaning on your shoulder doesn't drool while he sleeps. If you can't watch five whole episodes back to back, though, you can break it up by heading into another fantastical world by reading Paulo Coelho's The Alchemist. The story of Santiago's hunt for treasure just might inspire you to undertake a quest of your own when you reach your destination. Other reading options for your not-too-long-but-long-enough journey are The Silver Linings Playbook and, in keeping with the theme of books that turned into critically acclaimed movies theme, The Life of Pi.
For the Three-Hour Flight
Your three-hour flight — an easy mid-country journey, or a trip down the coast — gives you just enough time to disconnect, but not enough time to get bored or antsy. You don't want to get too invested in anything long or serious, so try a series like Planet Earth. The stand-alone episodes totally suck you in, but you won't in the middle of a really compelling cliffhanger, when the captain it's time to power down your device for landing. If you're in the mood for an engrossing drama, get your Don Draper on by streaming Mad Men, or pretend your coach seat is a Tardis with Doctor Who. You can also take the literary route with a short story collection, and George Saunders' Tenth of December: Stories is a dynamic mix of human drama and dark humor that will make the time pass in a flash.
For the 45-Minute Flight
If your flight is an hour long or less, there's a good chance you're crammed onto a tiny little puddle jumper, will basically feel like you just took off by the time you're landing. That also means that you're going to have to hit the ground running right when you get to your destination, with no time to waste. On a short flight, make sure your life is in good standing with Evernote. You can also get a quick shot of adrenaline with an episode or two of Top Gear or a game like Asphalt 8.
Now you have no excuse to complain of boredom during your holiday travels. You've got a ton of options on Amazon's Kindle Fire HDX with its high-definition screen, crystalline sound quality and a connection to thousands of movies, books and apps.