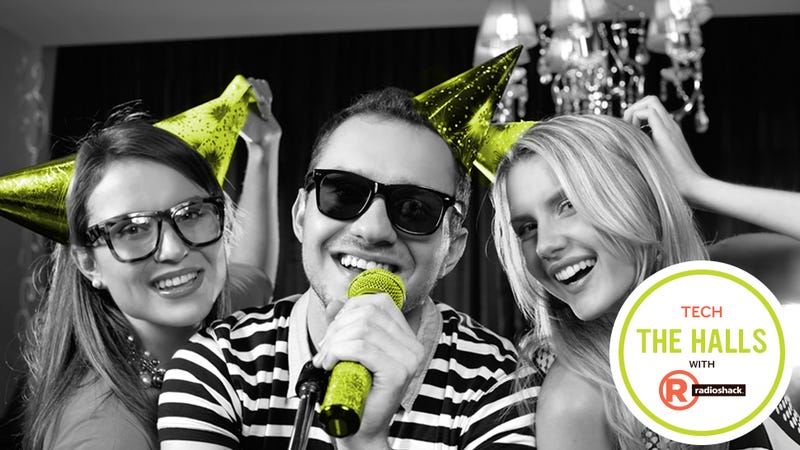 It's amazing that the holidays manage to pack family, food, gifts, and exorbitantly priced peppermint-flavored coffee into one season, but the party's not complete until you've raided RadioShack to ensure that an endless stream of flawless seasonal music is pouring from your speakers.
What, you were planning on playing music from your smartphone? I'm sorry to inform you that failure to adequately blast your seasonal jams will just remind everyone that your party is actually occurring inside of a fifth-floor walk-up that reeks of scorched eggnog. This will result in dimmed spirits, a sharp decrease in childlike wonder, and all of your friends pretending that they "just haven't heard about any New Year's Eve parties yet, sorry." It is a holiday fate to be avoided at all costs. But fret not: Below are three major types of holiday parties and some simple tech solutions that'll make you the undisputed master no matter how you celebrate. Put the ideas below into action, and you'll have the holidays on lock this year — all without ever having to learn what "wassailing" actually means.
Office Parties: Karaoke Is Way Better Than Making Small Talk with Your Coworkers
Stop trying to cover it up — you know the words to every single holiday song ever written, even the ones you'd rather forget (yes, "Grandma Got Run Over by a Reindeer," I am looking at you). Instead of suppressing your urge to burst into song, channel your compulsions the acceptable way — by turning your dreaded office holiday shindig into an impromptu karaoke extravaganza. The extremely portable ION Audio iSP11 Karaoke 2 Go instantly turns your iPad, iPhone, or Android tablet into a karaoke machine and comes with its own microphone and speaker. It's guaranteed to make your work party at least 75% more tolerable. Perhaps all that singing will even lead to an unexpected bonding moment between you and your boss...or, at the very least, a decent blackmail opportunity (how could she have possibly thought there were F-bombs in Wham's "Last Christmas"?)
Entertaining at Home: You Owe Your Guests More Than Just a Box of Wine
Despite the fact that you refer to eating tomato sauce directly from the jar with a spoon as a "casual dinner at home," you are technically an adult. And as a legit adult, you need to try a little harder at your holiday party than just playing "All I Want for Christmas is You" off your laptop. You deserve better, your guests deserve better, and Mariah Carey certainly deserves better. It is time to get some real speakers.
The wireless AUVIO® PBT1000 Bluetooth® Portable Speaker can easily move with you from room to room as the evening progresses from classy dinner party to sweaty living room dance-a-thon. The speaker is also remote-controlled by any Bluetooth-enabled device, so you can adjust the volume or change your playlist from across the house — impressing your friends and possibly convincing some of them that you are a wizard (wait until after the holidays to correct them on that one).
Caroling: The Sneakiest Way to Show Up Your Neighbors
Sure, part of caroling's appeal is that it's a friendly, non-competitive tradition that has gone relatively unchanged for centuries. But could it possibly hurt to make sure that your caroling group is just a little bit, you know, louder than all the others? I mean, you guys didn't spend all that time nailing those "White Christmas" harmonies just to have them get drowned out by someone's car alarm. The Bluetooth-enabled, battery-powered Beats by Dre Pill Wireless Speaker has speakerphone capabilities, allowing you to patch in and crank up a conference call from your vocally-gifted cousins across the country as you sing. Everyone will appreciate your strategic thinking — buying you some goodwill and allowing you to evade punishment later on when you're caught stealing all the candy from the Advent calendar in the middle of the night.
Ready to practice your karaoke face? RadioShack will let you name your own deal from now 'til November 22.
Gabrielle Moss has written mostly funny stuff (but also some serious stuff) for GQ.com, The Hairpin, Nerve, etc. You can follow her here.