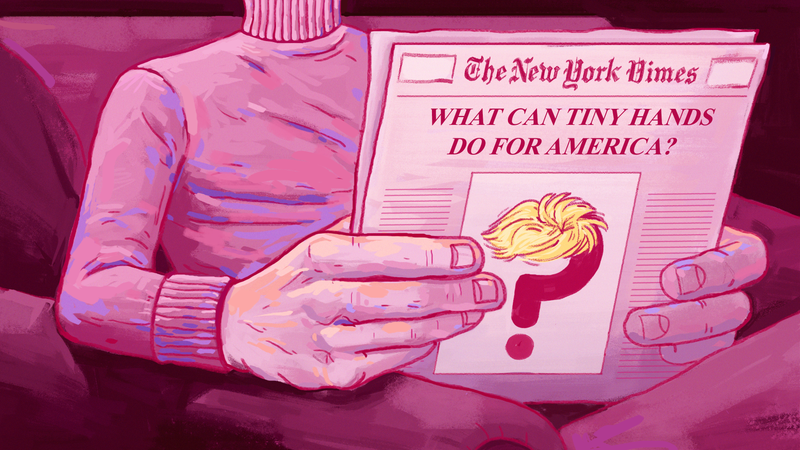 We're just a few days into 2017, but it's not too early to anticipate what crazy nonsense is going to happen this year. Using the wisdom gained through experience, the knowledge of everything that happened in years past, and a healthy dose of "just making stuff up," I've put together some predictions for the headlines of 2017. Chances are you'll be hearing these stories talked about on Throwing Shade, premiering Tuesday, January 17 at 10:30/9:30c on TV Land, but more on that later. Without further ado, here are some of the headlines of 2017!
---
As a form of "outreach" toward American women, President Trump will allocate federal funding toward this new department, which will serve to "educate and inform women about things they probably haven't heard of." Features of mansplaining.gov will include a description of why the Electoral College is actually wonderful, and a rundown on exactly which lesser-known Mumford & Sons songs are "even better than the big hits."
---
Yeezy and President Trump's friendship will reach new heights when Trump appoints Kanye to this newly created position that he is as qualified for as Rick Perry is for Secretary of Energy.
---
Tinder revolutionized dating with its cut-to-the-chase approach, and now the company will do the same for breakups with a new app called "Later." Rather than suffer through an agonizing breakup talk in a Starbucks, you can fire up this app and swipe left on your partner, who will receive an instant notification that they've been "deselected" from your life. It's so much faster than traditional, "analog" breakups, letting you move right along to the process of sorting out who gets to keep the Amazon Echo you bought together.
---
With control of the White House and comfortable majorities in Congress, Republicans will succeed in putting your health care in the hands of your own actual dad, regardless of whether your dad has any medical knowledge or training. As for the dads who are not in the picture or not alive, Republicans will shrug and mutter something about "non-traditional families."
---
Having already proven her range by playing an Asian woman in Aloha, Emma Stone will flex her acting muscles even more by starring as Malcolm X in a forthcoming biographical film. For the first time in history, the African-American civil rights hero will be portrayed as a quirky, elf-like white woman. Oscar fodder, anyone?
---
Shark Tank will still be on.
---
Wow. 2017 sure does have a lot in store for us. Fortunately, the long-running, hugely successful podcast Throwing Shade is now a fully-fledged TV show (I know!), premiering Tuesday, January 17 at 10:30/9:30c on TV Land. Erin Gibson and Bryan Safi are going to take a look at all the headlines in politics and pop culture and treat them with much less respect than they deserve. Get psyched with this hot new Throwing Shade promo! And share your own predictions for the headlines of 2017 in the comments.
Tony Carnevale is a senior writer for Studio@Gizmodo.
This post is a sponsored collaboration between Throwing Shade and Studio@Gizmodo.