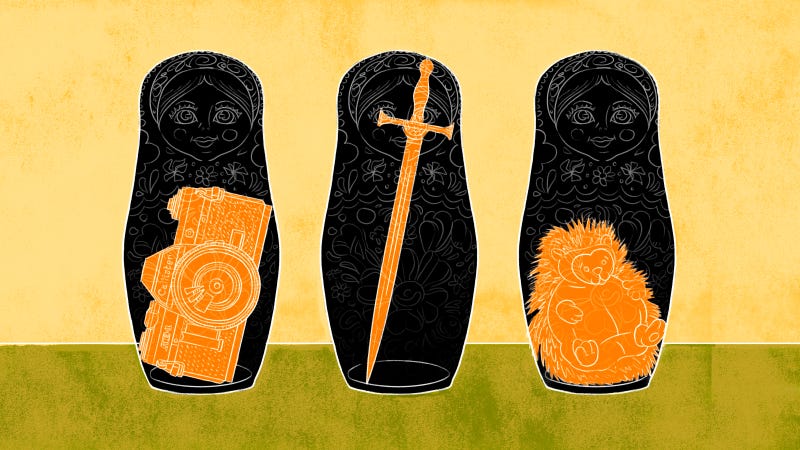 Whenever I walk by a Lost and Found department in an airport, train station, mall, or library, my mind fills with questions. What's the weirdest thing in that tiny little room? How often do people actually reunite with their missing stuff? And if the owners never call, can I take any of that stuff? Well, friends, I got some answers.

I spoke with Laurie Slothower, the communication and media officer for the Sacramento County Department of Airports, and Louise Lareau, managing librarian of the Children's Center at the New York Public Library's Schwarzman building. Some of the stuff people lose is even stranger than I'd imagined.

At the Sacramento International Airport, travelers have unintentionally abandoned such surprising treasures as an autographed prop sword from the TV show Highlander, a new-in-box truck bumper, an equally new chainsaw, and a wedding dress. Anything worth less than $100 is stored for a month and, if unclaimed, donated to Loaves & Fishes, the soup kitchen and homeless shelter. Items worth more than $100 are kept for 90 days and then turned over to the sheriff's department, which auctions it off. The holidays and the summer are the busiest times of year at the airport's lost and found, which makes sense.

At the library, things get left behind year-round — the Schwarzman building is a perennial tourist destination, after all. Since Ms. Lareau runs the Children's Center, she mostly sees toys. They don't often get claimed, so parents usually forget about them. One exception was Humphry the Hedgehog, a stuffed animal about which Lareau received a panicked phone call. "My daughter's really upset," Lareau recalls the child's mother saying.

"I wrapped up the hedgehog in a cardboard box and we mailed it back to them," Lareau explains. "I included a little note, saying 'I'm so glad Mr. Hedgehog was able to go home.' I wrote this whole little story to go along with it, saying he explored the library after hours. I thought I was writing a letter to a 6-year-old."

After Humphry returned home, the grateful family sent Lareau a video documenting the hedgehog's visit to the city — and Lareau discovered that the "6-year-old" was actually a teenager. Hey, you're never too old to travel with a stuffed hedgehog, right?

Kids aren't the only ones who leave things behind. Lareau said, "A couple months ago, somebody left a very fancy-shmancy camera. The next day, at like 10:05, this man comes frantically running in, and in very broken English — he was from Italy — he goes, 'Camera, camera!' I'm like, 'I've got your camera!' I'm really happy that he wasn't flying home [the evening he'd lost it]."

I cringed hearing that story — it felt too familiar. While the staff at lost and found departments are friendly and helpful, I hate the panicky feeling of knowing I may never see a prized possession again. Fortunately, there's Tile, the Bluetooth tracker I can put on almost anything. With the Tile app installed on my phone, I can "ring" my keys, wallet, or fancy-shmancy camera, so they make a loud noise if they're within 200 feet. If they're farther away, no problem — the app remembers the last place and time I had them.

For more lost and found stories, check out Tile's blog. They've got anecdotes about a £10,000 Rolex, the keys to a Porsche, and a live cat, all of which went missing at some point. BRB, stocking up on Tiles and putting them on everything.

But first, I'm curious: What have you lost and regained at a lost and found — and what did you never get back, and miss to this day? Let me know in the comments.
Tony Carnevale is a senior writer for Studio@Gizmodo.
This post is a sponsored collaboration between Tile and Studio@Gizmodo.