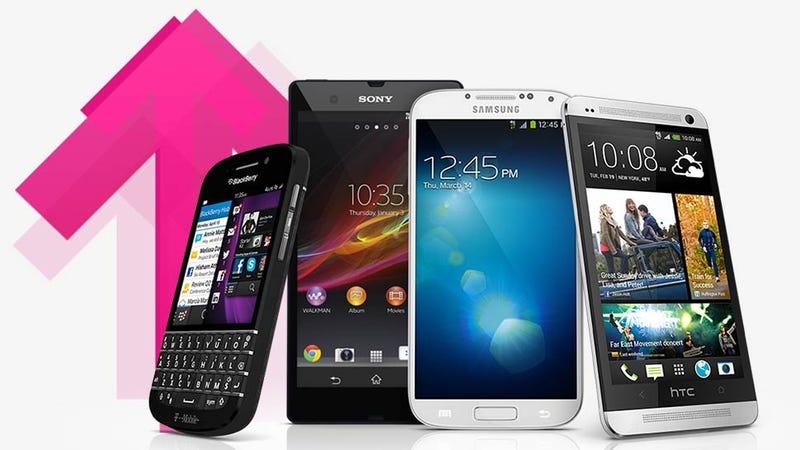 It happens without fail: You pick up your brand-new phone from the store and you know you're holding what might be the greatest smartphone achievement in at least a generation. And then it accidentally smashes on the sidewalk. Too bad you're stuck with it for two years! No you're not! T-Mobile's JUMP!TM upgrade program is here.
JUMP!, an acronym for "Just Upgrade My Phone", lets you upgrade your phone twice a year instead of every two years, starting just six months from enrollment. No more being saddled with a cracked screen for 24 months. No more having to buy an expensive phone off-contract just to get by. No more sitting around for 730 days with a phone you don't want anymore just to get an affordable upgrade. You now have the freedom to upgrade when you need. Which is often, because having an old phone when everyone's gloating about the newest model is just plain depressing.
It works like this: when you purchase a new handset on T-Mobile's Simple Choice Plan, you can add JUMP! for just $10 a month when you're choosing your plan services. From there, you can upgrade your phone after the first six months without a sweat. Just trade in your prematurely ancient one, and you're good to go. Even if your phone is wet, stolen, or otherwise chewed up by everyday life, you can still trade up to something better after paying a deductible.
With that $10, you also get Premium Handset Protection and Mobile Security. That means if your phone gets lost, breaks, or gets snatched out of your back pocket at the grocery store, you're covered. There's also the added bonus of antivirus protection, remote location and lockdown functionality, and backups for your photos and contacts. All this is kind of a no-brainer.
The best phones don't come out two years at a time. They never have. So whether you're up on the latest tech news or just happen to be a little accident prone, you shouldn't have to wait to get what's new out there. Click here to check out how T-Mobile is the right un-carrier for you and your next smartphone. Then...JUMP!
Paid Advertisement.
Visit a participating T-Mobile store or www.T-Mobile.com for pricing and details. T-Mobile and the magenta colors are registered trademarks of Deutsche Telekom AG.