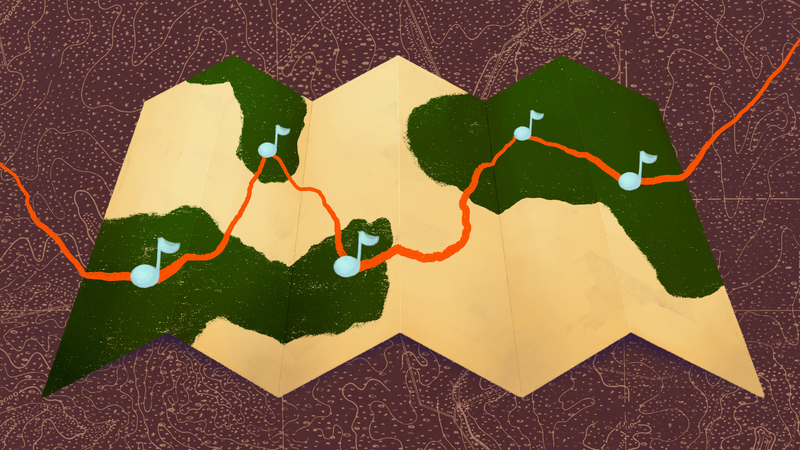 Every unforgettable trip has a soundtrack. There are songs that will always take you back to that wild three-day city escape or that life-changing beach getaway. But what about a vacation that is built around music?

A music scene is the framework of a city's traditions and an avenue toward understanding its spirit. From Philadelphia's soul roots to Chicago's jazz scene, many iconic music currents trace back to genres invented or influenced by black creators. Here's a guide to travel to those epicenters of black music history in a seamless way: on an Amtrak train.
New York City: The Birthplace of Hip-Hop
Hip-hop organically developed among young DJs breaking the beat, lyrical MCs, breakdancers, and graffiti artists who were seeking innovative forms of self-expression. But it was hip-hop pioneer DJ Kool Herc and his 1973 back-to-school jam at 1520 Sedgwick Avenue in the Bronx who made it happen: the first step that led hip-hop to influence the international landscape of popular music. Hip-hop has since taken over fashion, language/slang, and music-production techniques in all genres. A visit to the Graffiti Hall of Fame in Harlem or exploring the names of hip-hop legends on the Bronx Walk of Fame is a great way to witness NYC's hip-hop heritage. And one key hub for all things hip-hop, from preservation to a showcase of rising rappers, is the Bronx's Universal Hip Hop Museum.
Philadelphia: The City of Brotherly Soul
Philadelphia's soul music traces back to the 1960s and carries its own distinctive style by infusing funk, soaring strings, and piercing horn arrangements into R&B to create classic songs like the O'Jays "Love Train." Philly soul influenced many of today's popular acts from the area: Jill Scott, Boyz II Men, and the Roots. Legendary live performance locations like Black Lily are gone, but World Café Live and Electric Factory are providing a place for local acts and larger names to entertain audiences. Soul-music lovers will also appreciate The Liacouras Center at Temple University, which produced alumni including the aforementioned Mrs. Scott and Billy Paul. The center hosts neo-soul concerts featuring Philly-bred artists along with other notable soul acts.
Washington, D.C.: The District of Go-Go
D.C. and go-go music just go together. A blend of funk, R&B, dancehall, and hip-hop with a drum-heavy sound, go-go was created in the late '60s by artists including the "Godfather of Go-Go," Chuck Brown. Go-go remained popular in D.C. as dancers crafted high-powered fancy footwork to accompany the lengthy up-tempo songs. Famous tracks like "Da Butt" and "Sexy Lady" are evergreen dance hits featured in major motion films. Go-go centric spots are becoming scarce, but the Howard Theatre, a pillar in the black music community since before Harlem's Apollo, still features long-time go-go acts like Rare Essence and the Junkyard Band. The rich history of D.C.'s black music can be further explored at the Smithsonian's new National Museum of African American History.
Baltimore: The Boom Heard 'Round the World  
Bmore, Baltimore's boisterous mash-up of house, hip-hop, and bounce music, traces back to the late 1980s. While it has repetitive call/response lyrics, sampling, and a fast tempo similar to go-go, Bmore infuses everything from UK rave music to Miami bass in its eclectic, choppy sound. Bmore became a sensation outside the city, and soon influenced popular DJs like Diplo and was prominently featured in the Baltimore-based HBO hit crime drama The Wire. Unfortunately, the genre experienced a decline after popular DJ K-Swift aka Club Queen passed away in 2008, but one iconic nightlife spot, Paradox, still opens for dance parties. Euphoria Nightclub and Select Lounge also feature some classic Bmore.
Chicago: The Jazziest Place on Earth
In the early 20th century, millions of African-Americans left the South and headed west — a period known as the Great Migration. Many of these travelers settled in the Windy City and brought their musical stylings to the South Side, as they meshed with musicians from other areas. Chicago jazz mixed New Orleans' Dixieland jazz with string-bass and guitar to create a unique uptempo sound. Chicago jazz has had a profound influence on every regional successor, including swing, blues, and other subgenres of jazz, and remains an important staple in the city's entertainment scene. The Green Mill, one of the most enduring jazz clubs in the country, is still a popular place to catch local acts until 4a.m. daily. Visitors can also head over to the infamous Chess Records location where Etta James made music or dig for obscure jazz recordings at the Dusty Groove record store.
Los Angeles: G-Funk Ground Zero
Hip-hop music may have been born on the East Coast, but L.A.-based rappers made it their own with gangsta funk, or g-funk. Influenced by '70s groups like Parliament, the style features a laid-back, smoother rap flow. Background vocals by female singers, synth-heavy music, and ample bass gave g-funk crossover appeal in the early 1990s. Dr. Dre's classic 1992 album The Chronic elevated the genre's status in hip-hop culture, influencing rappers including Snoop Dogg, Bone Thugs-n-Harmony, and Kendrick Lamar, among others. Former Compton club Eve After Dark, where a young Dr. Dre spun records and Ice Cube rocked the mic, still has a physical location but is now the home of a new venue. However, the Echo & Echoplex and The Novo are current venues which feature the next West Coast sensations, as well as g-funk pioneers like Warren G.
Found a genre you want to explore? Book a trip to any of these cities with Amtrak, the seamless way to travel. For more information on itineraries and routes, check out their scheduling options.

Tai Gooden has written for The Guardian, Paper, Paste, the Learned Fangirl, the Frisky, and Upworthy. When she's not writing, she can be found waiting on the TARDIS.
This post is a sponsored collaboration between Amtrak and Studio@Gizmodo.