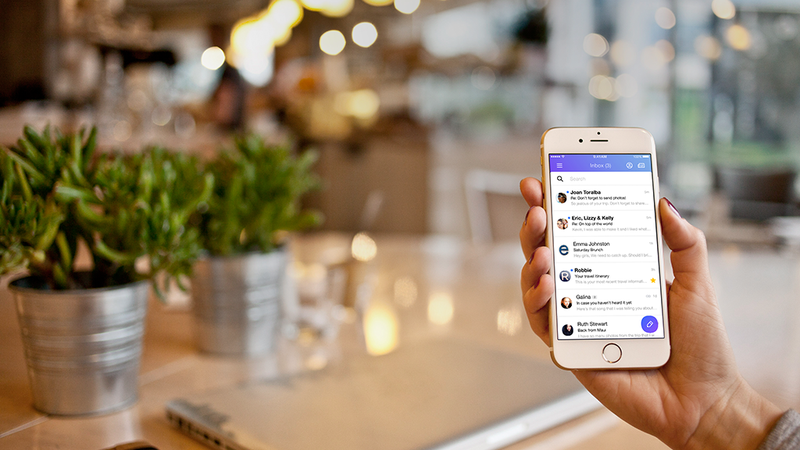 Whether you're a Yahoo Mail aficionado or you just want to get started with it, this is a prime time to download the Yahoo Mail app. It's fully redesigned, with a ton of refinements and improvements that are going to make your email experience so much smoother. Let's take a look at all the ways this app makes yesterday's email look like the Pony Express.

Buckle Up, This Baby's Fast
The app fires up lightning fast and messages appear even faster. I'm not saying you should challenge your friends to a "whose email is fastest" race, but if you did, you'd probably do just fine. Unless they're already using the Yahoo Mail app, then it'd be a tie.
Compose a Better Email
Attach multiple pics and videos of the cute puppy/baby/sweater you just met, all at once. They appear beautifully, right in your email.
Your Search Is Over
Filter your searches by messages, files, or photos so you find what you're looking for immediately. Imagine if everything in life had a search function this sleek. You'd never lose your keys again.
It's Who You Know
No email app knows the people in your inbox better than the new Yahoo Mail app. Tap anyone in an email to see any contact information they've shared with you: name, company, title, email history, even recent tweets. Yahoo Mail maintains it all for you, automatically, even when someone's not in your address book. Plus, Yahoo Mail intelligently auto-suggests contacts based on the people you email most. It helps you find emails and files from anyone, no matter where they sent it from. And avatars help you quickly find emails from the people who are most important to you.
The Gang's All Here
Got email accounts with a variety of providers? It's okay — Yahoo Mail won't judge. Check 'em all right here at the same time, in one app. Connect your Gmail, Outlook.com, Hotmail or AOL Mail accounts to Yahoo Mail so you can manage them all in one app on the go!
It's Yahoo!
It wouldn't be Yahoo if it didn't help you stay informed and up-to-date, with the latest news from Yahoo and the Yahoo Magazines.
What are you waiting for? Start downloading the new Yahoo Mail app now at the iTunes App Store or Google Play. It's time to start emailing like it's 2016, already.
Tony Carnevale is a senior writer for Studio@Gawker.
This post is a sponsored collaboration between Yahoo and Studio@Gawker.